I am participating in Tribe Talk at It's a Hodgepodge Life.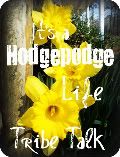 Here are my picks
Jessica @
Mommy to a lil [Bug]
Kati @
Country girl city life
Lanie @
Lanie J and Co.
Tree @
Mother of Pearl it is
Stacie @
Simply Stacie
If you are interested in participating, Click on the Tribe Talk button above to head on over and see Gay. Post your 5 picks and link up! Check out other's tribes while you are there!